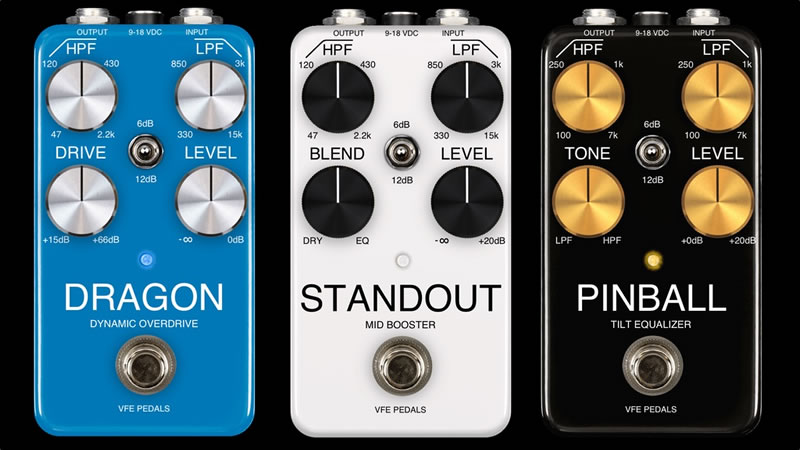 VFE Pedals Launches New Guitar Pedal Lineup and Educational Kit
New Kickstarter Campaign Opens Exciting New Chapter for the Company
Tacoma, WA – September 8, 2016 – (GuitarPR) – VFE Pedals has launched its new lineup of guitar effect pedals with a unique twist. The company has developed this unique pedal line based on high-pass and low-pass filters and also includes a highly innovative educational DIY program!
As in the past, VFE is launching the new line with a robust Kickstarter campaign currently offering ten reward categories. The campaign will also help to raise funds to support the Audio Circuit Design Course taught by VFE founder and owner, Peter Rutter, at IDEA, an innovative high school in Tacoma, WA.
Included in the lineup is the new "flagship" VFE Pedal, Standout mid booster, a significant improvement on the previously available Focus pedal. Also introduced are Dragon dynamic overdrive and Pinball tilt equalizer.
According to Rutter, "I took ALL my experiences from VFE Pedals – product design, customer feedback, building thousands of pedals by hand, troubleshooting problems, managing inventory, playing through the pedals myself, etc. – and used them to create a new pedal format that improves on my previous products in many key areas."
More information is available at the following links:
Kickstarter Campaign: https://www.kickstarter.com/projects/vfepedals/vfe-pedals-new-pedal-line-educational-kit
Project Video: https://www.youtube.com/watch?v=8zdRCTGTN90
Pedal Demo Video: https://www.youtube.com/watch?v=GJQFdUpUfSI
Contacts
Peter Rutter
VFE Pedals
sales@vfepedals.com
VFEPedals.com
###
SHARE THIS RELEASE