Other Ways We Can Support Your Efforts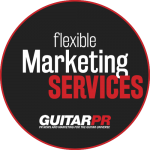 Our Structured Press Release packages are but just one of the ways GuitarPR can help your business move forward. In fact, we offer a variety of supportive marketing and consulting services custom designed for your company or organization. Our flexible approach follows a thorough assessment and understanding of your company's goals and objectives (destinations as we say).
SEE PRESS RELEASE OPTIONS HERE >
SEE CONSULTING SERVICES HERE >
Creative Content
Every business needs to create content of some kind or another. Whether it's marketing, advertising or editorial… for external or internal use… we write it, produce it and get it out (wherever it needs to go). Our methodology with promotional and other business-related content always utilizes our "3 C's" principle:
Capture the attention
Convey the message
Compel the action
Simple enough. But this work requires the writing skill, both creative and technical, combined with equal doses of marketing, sales and presentation capabilities.
Email
With our own email marketing service, noozmail, we can provide our clients with a high-powered and affordable managed platform for lists of 100 or 100,000 (or more) when applicable.
Web
We've been designing and developing websites of all kinds since nearly the start of the Web in the mid-nineties. Of course, it was a little different then. It's a lot different now. It was even a lot different just a few years ago. While we rightly stay away from large, enterprise level projects in house, most of our web platform work utilizes the most common and stable open source content management systems, like WordPress. Whether it's just an assessment and recommendation, or a more complete design and deployment, we're happy to discuss your needs and interests.
Print and Traditional
There isn't much in print and traditional media that we've not done. At GuitarPR, we can also handle a variety of print projects in many forms from basic to complex. The advantage, of course, is our ability to holistically integrate all aspects of our work to serve the greater good for our clients.