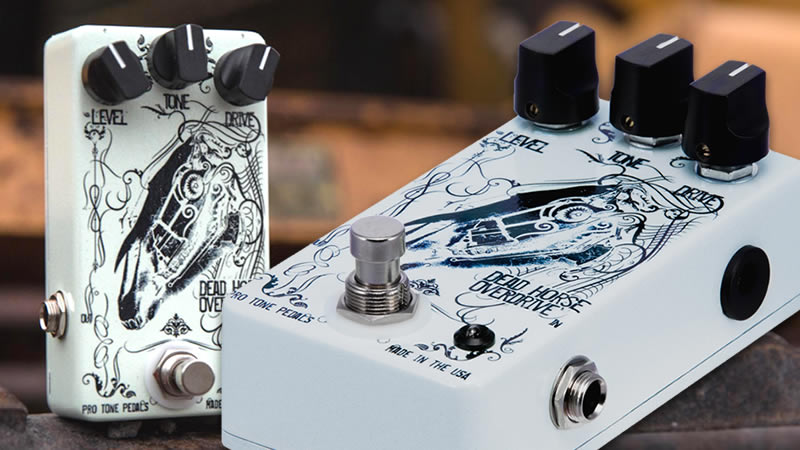 Pro Tone Pedals introduces New Essential Edition Dead Horse Overdrive
New pedal line available at half the size and a fraction of the price
Charleston, SC – April 27, 2016 – (GuitarPR) – Pro Tone Pedals has just introduced its new Essentials line of pedals that includes a newly designed version of its highly popular Dead Horse Overdrive.
The original Dead Horse Overdrive, with unrivaled tone and flexibility, has been called the best overdrive for modern metal guitar tones on the market. Now, the scaled-back Essential Edition offers all the tone players have come to expect with half the size and at a fraction of the price.
According to Dennis Mollen, founder of Pro Tone Pedals, "We've removed the diode selection switch, a feature that added such subtle differences that we decided to remove it. That's really all that's worth mentioning. The rest of the changes are production-based, allowing us to shrink the pedal, the build time and the price."
The new Essential Dead Horse still offers the renowned tone that made its big brother famous – the classic TS808 voice with deeper bass, smoothed out mids, and biting overdrive when cranked. It continues to use the famed 4558 chipset for the mythical mojo.
For more information, visit: https://protonepedals.com/product/essential-edition-dead-horse-overdrive/
About Pro Tone Pedals
Pro Tone Pedals was founded in 2004 to provide hand built high quality guitar effects to the underserved hard rock community. In the 12 years following, the Charleston, South Carolina based company has had the opportunity to work with some of the biggest names in modern rock music.
Contact
Dennis Mollen
Pro Tone Pedals
dennis@protonepedals.com
214-306-9697
###
SHARE THIS RELEASE