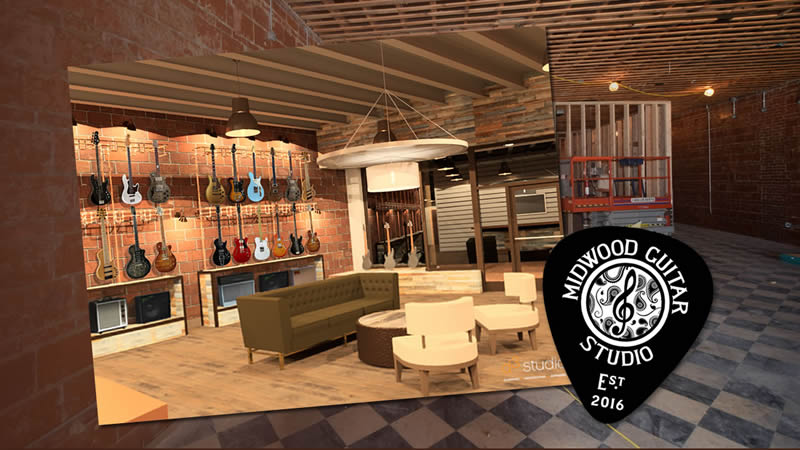 Midwood Guitar Studio Previews Brick and Mortar on Reverb.com
New boutique guitar dealer's inventory available online prior to grand opening
Charlotte, NC – July 18, 2016 – (GuitarPR) – Midwood Guitar Studio has announced the opening of their online store on Reverb.com as a preview to the grand opening of their Charlotte brick and mortar location in September.
Midwood Guitar Studio has aligned themselves with an extremely talented team of custom and boutique guitar and amp builders and creators of unique effects pedals. With a substantial amount of inventory already in stock for the opening of the showroom, the company is now offering the guitars, amps and pedals for sale on their Reverb.com store.
They are currently featuring, working with and servicing some of the finest brands in the industry, including guitars from Veritas, b3, Delaney, Briggs, Roscoe, Berumen, Larose, Mike Lull, Elrick and Schroeder. Also on board are amplifiers from Epifani, Genzler, Bergantino, Swart, Morgan, Victoria, Tone King, Benson and Oldfield, along with pedals from Walrus, Keeley, Chase Bliss  and Earthquaker.
According to founder, Douglas Armstrong, "Midwood Guitar Studio is committed to creating a comfortable atmosphere where guitar enthusiasts can discover the instrument, amplifier or pedal of their dreams. We are focused on developing lasting relationships with our customers and neighbors."
Current available inventory can be found online at: https://reverb.com/shop/Midwood-guitar-studio
About Midwood Guitar Studio
Midwood Guitar Studio is a boutique guitar store in Charlotte, NC, located in the heart of Plaza Midwood, offering great hand-made instruments, amps and effects. Their new, fully outfitted showroom is scheduled to open in September 2016.
Contacts
Douglas Armstrong
Midwood Guitar Studio
darmstrong@midwoodguitarstudio.com
704-641-4437
Dan Hood
Manager
dhood@midwoodguitarstudio.com
704-900-2811
###
SHARE THIS RELEASE