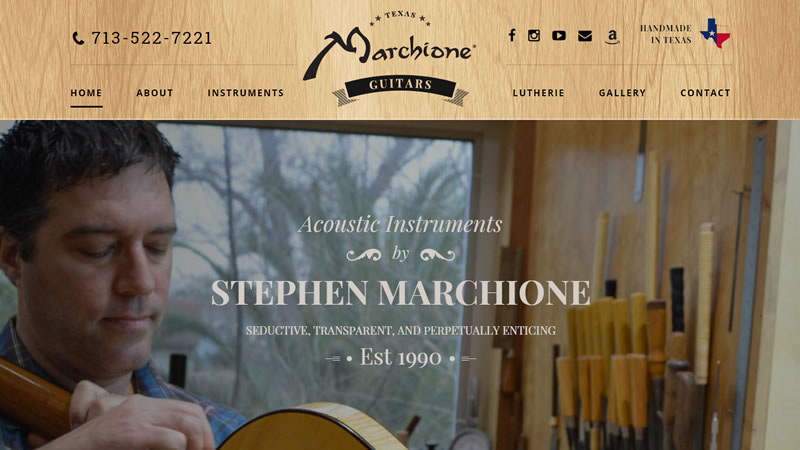 Marchione Guitars launches new Website
HOUSTON, TX – March 28, 2015 – (GuitarPR) – Marchione Guitars has announced the launch of its all-new website designed from the ground up. The new site depicts the character of Stephen Marchione's Houston-based guitar making business with a unique Texas feel and presents his extensive range of instruments in vivid fashion.
The new MarchioneGuitars.com features sections for Archtop, Acoustic, Semi-Hollow and Electric guitars as well as Marchione's Violin works. While probably best known for his exquisite Archtop guitars, a new Steel String guitar has just been added to the Acoustic line, which already includes established Classical and Flamenco instruments.
The expanded image galleries offer an enlightening insight into Marchione's dedication to quality, creativity and superior player experience. "My guitars are for those who won't compromise on gifts for themselves. Perfectly crafted guitars and delighted customers are my passion and for the original owner, I guarantee materials and workmanship for the life of the instrument," says Marchione.
Visit the new site at www.marchioneguitars.com.
About Marchione Guitars
Marchione Guitars is based in Houston, Texas. Stephen Marchione began his career as a guitar maker in 1990 and in the last 25 years has designed and built over 400 custom instruments for clients all over the world. Guitars, basses, violins and more have been delivered to and are played today by many well-known and respected artists such as Mark Whitfied, Mike Moreno, Paul Kogut, Faton Macula, Fabrizio Sotti and many others.
Contact
Stephen Marchione
marchioneguitars@mac.com
713-522-7221
SHARE THIS RELEASE