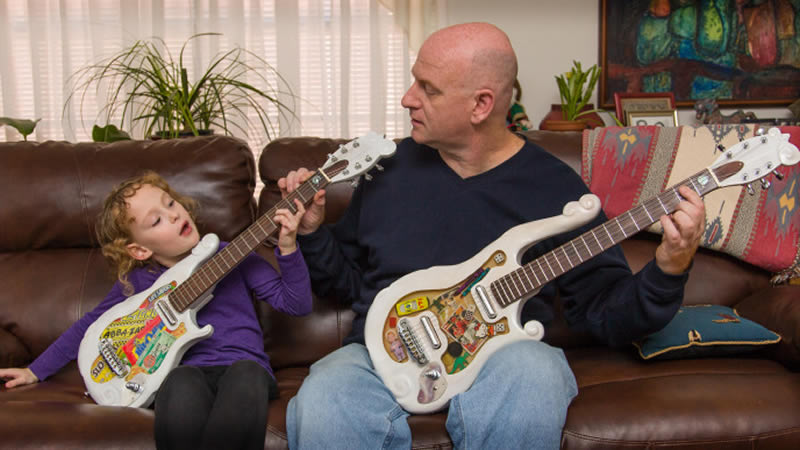 Guys Building Guitars Club Builds for Charity
The club hand-builds two guitars to raise money for Children's Miracle Network
DALLAS, TX – May 4, 2015 – (GuitarPR) – Guys Building Guitars Club, announces today that it's 2015 charity guitars will be auctioned off on June 20th through Heritage Auctions to benefit Children's Medical Center Dallas. Both guitars were 100% handmade by club members.
The Cause
The two guitars built by the GBGC will be auctioned off through the Heritage Auctions in Dallas. They have graciously donated their fees. Both Guitars will be auctioned off as a set on June 20th, 2015 through the Heritage Auction Musical Instruments Signature Auction in Dallas Texas. The guitars will be auctioned as a pair and all of the proceeds will be given directly to Children's Medical Center Dallas, the local CMN Hospital.
The Inspiration
"My daughter's life was saved by the efforts of a CMN Hospital, that's why I wanted to give back by building these tribute guitars to honor their great work," says Chris Hoffheins, a GBGC Member. Hoffheins was inspired by his daughter, Emily, to build a guitar that would benefit a children's hospital. Emily, who was born three months premature and was only 2 lbs. 2 oz., spent the first three months of her life in a Neonatal Intensive Care Unit at Children's Medical Center. She was born on June 14, 2009 and was in the hospital until August. Today, she is a happy and healthy Kindergartner.
About Guys Building Guitars Club
GBGC is a Guild of Texas guitar builders who like to hangout and talk about building guitars. The club was started in April, 2011 with only a few members attending. GBGC meets the first Thursday of the month at Rockler Woodworking in Richardson, Texas. The club has grown over to 100 members and holds meetings in Dallas and Houston. Their first charity auction was a Strat style guitar that was built and auctioned off to benefit the Red Cross with the funds going to the Japanese Tsunami relief. The current project for the club is an ES-335 style guitar to benefit Russ Martin's Fallen First Responders.
More information is available at GuysBuildingGuitars.com.
Contact
Rob Baker
info@guysbuildingguitars.com
Dan Chenault
danthewoodman2k@yahoo.com
Gary Shrum, Heritage Auctions
garys@ha.com
###
SHARE THIS RELEASE