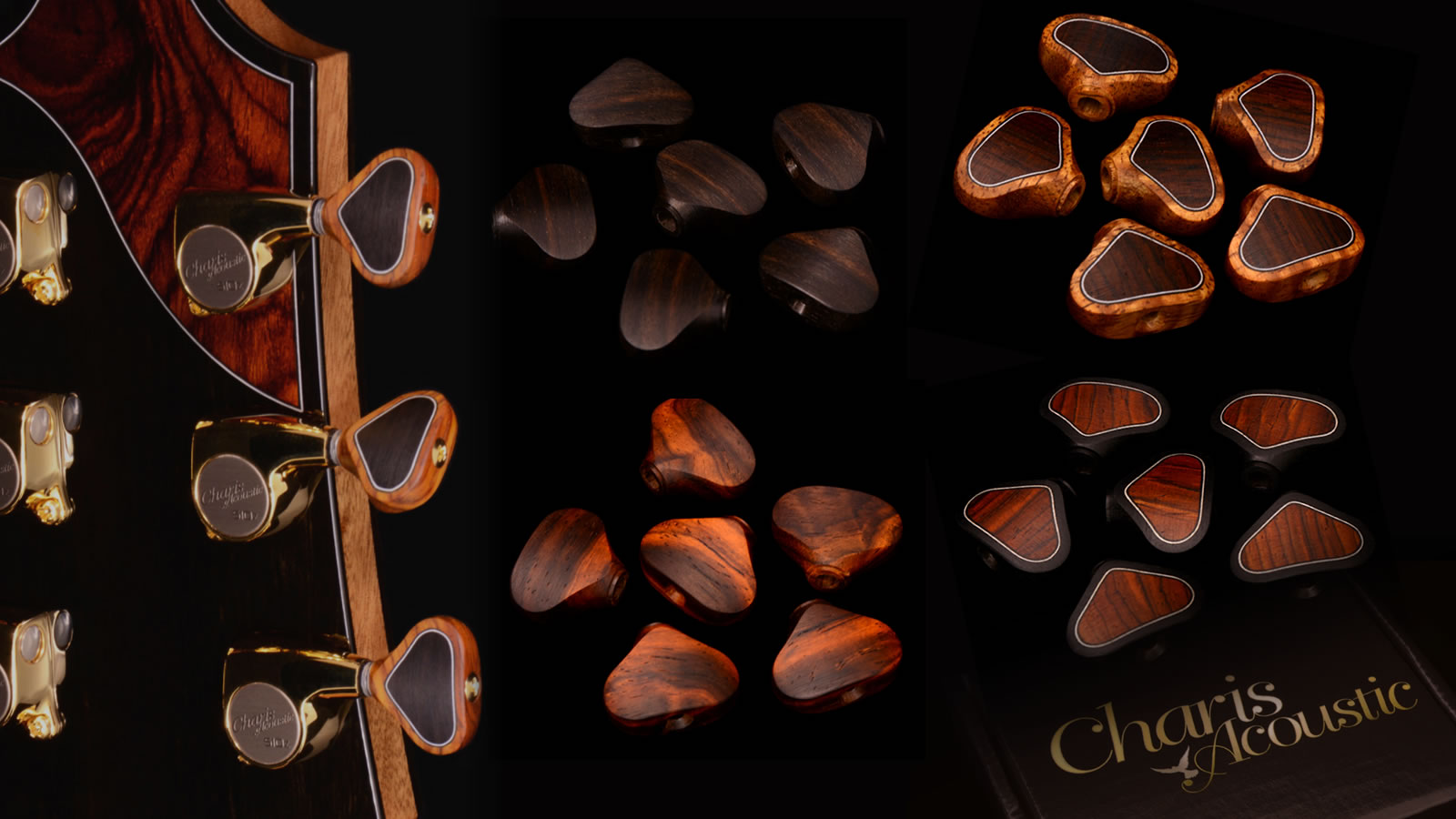 Charis Acoustic Announces Launch of Tuner Button Store
Now offering one-of-a-kind tuner button sets crafted in beautiful woods
Bay City, MI – July 11, 2017 – (GuitarPR) – Charis Acoustic, known for extraordinary acoustic guitars built by well-respected luthier, Bill Wise, has announced the grand opening of their unique Tuner Button Store.
The Charis Acoustic Tuner Button Store features a wide variety of wooden replacement Buttons designed to fit Gotoh 510's L5, BL5, ML5 keys. Each unique set of buttons is personally crafted to exacting standards and shown individually in the store. When a customer chooses a set of buttons, what they see is what they will actually get.
According to Bill Wise, "We've been making these tuner buttons to be used on our own instruments for much of the last decade. During that time, we've perfected the crafting process so that we are now able to produce larger quantities than we need in house and can now make them available to the public for their own use."
Currently, Charis Acoustic Tuner Buttons are offered in a variety of configurations using African Blackwood, Cocobolo, Brazilian, Koa, Cocobolo, Ebony, Pau Ferro and Ziricote. Single wood button sets are available along with multi-wood inlayed versions. Custom configurations are also an option upon inquiry.
Pricing for tuner button sets starts at $45. All sets can be seen on the store at: https://www.charisacoustic.com/tuner-button-store/
An excellent video demonstrating the proper installation method can be viewed at: https://www.charisacoustic.com/tuner-button-installation/
About Charis Acoustic
For over 20 years, Charis Acoustic, has been producing limited quantity, very high quality acoustic guitars from Bay City, Michigan, with over 450 instruments created.
Contact
Bill Wise
Charis Acoustic
989-686-9775
bill@charisacoustic.com
Click the image above to copy/download the full size version.
###
SHARE THIS RELEASE