We Generate Immediate Benefits for Your Guitar-Related Business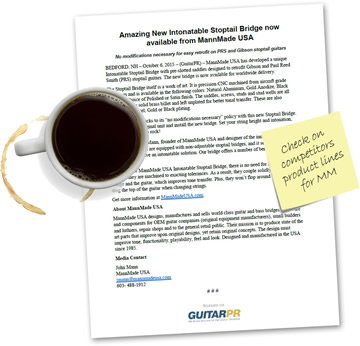 GuitarPR is an efficient and effective, modern-day press release marketing and distribution service that produces and deploys marketable news from guitar-related companies, organizations and players. We generate immediate benefits for small and medium sized businesses and we do the heavy lifting.
We can create Marketable News for virtually any organization.
GuitarPR helps you enhance and grow your business by:
Utilizing our affordable, professional Concierge Services to get your word out to the world.
Cost-effectively promoting your news (product/service launches, events, milestones, etc.) using our highly-focused, structured service. We offer a few good options, not a million.
Quickly delivering your Marketable News to appropriate media outlets AND interested consumers (and businesses) in your market… the guitar market, at a fraction of the cost of other services.
Aligning with a respected, third-party with established reach and credibility in the guitar market.
GuitarPR is for:
All guitar-related companies, organizations and players.
Media including magazines, blogs and other news sites serving guitar-related markets.
Guitar enthusiasts looking for direct, unfiltered information right from the source.
GuitarPR is different because:
We only serve one primary market… anything guitar-related.
We keep things simple and costs down. You benefit from both.
We're carving out our own path with a basic, cost-effective value proposition: High-quality deliverables that generate immediate benefits at an affordable cost.
Our professional Concierge Services offer expert USA-based, in-house talent and market expertise to create, deploy and follow-up with your press releases and other relevant marketing vehicles.
Get great personal service with…