Increase Sales? Grow Your Guitar-Related Business?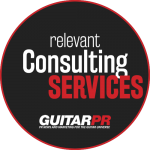 Now you can take advantage of our extensive knowledge and experience to get a straight-forward review of your sales and marketing strategy (if one exists or not) and receive simple, but solid recommendations on how to start taking your business to the Next Level.
See all other Consulting Services >
See all other Marketing Services >
Our 5-Step Program includes:
Up to 60 minutes preliminary telephone or Skype meeting(s) to assess your current situation
Our Strategic Questionnaire (SQ) to establish your Sales & Marketing Baseline
Review and analysis of SQ answers
SQ Report
Up to 30 minutes follow-up and recommendations telephone or Skype meeting
Typically this kind of consultative service would cost many hundreds of dollars. But, because GuitarPR is known for its thoughtful structured services, we offer our Sales & Marketing Tune-Up for just $199.
We also have an Expanded Tune-Up for $499 when simply more time is required. Contact us if you are uncertain.
You can order this service on our Structured Services page.