Structured Release Packages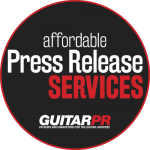 GuitarPR offers an efficient, effective array of in-house services designed get your Marketable News up and out quickly and professionally – at an affordable cost.
Need something more or different? Just contact us.
 Our Famous 10-Step GPR Primary Release
We provide expert assessment and consultation, which includes at least one phone or Skype meeting. We take a personal interest in our mutual success.
We create a logical and compelling "Rationale" statement outlining elements and strategic purpose of the release(s) where applicable.
We write, format and produce your press releases based on input and any needed materials using best professional practices.
We compose creative, attention-getting primary images that are attached to the release and included in all media and emails.
We produce a release PDF downloadable on GuitarPR and available to media and your own use. (example).
We deploy on GuitarPR as a permanent shareable release.
We individually email your release to over 1000 guitar-related media outlets (magazines, blogs, editors, etc), dealers,  distributors and industry leaders as a credible, respected third party source. (Email example)
We jumpstart and promote each release heavily on our own social media channels (to over 30,000 followers). Each release includes a paid post boost through our GuitarPR Facebook ad channel.
We provide release follow-up as warranted.
Order 1 to 6 releases. Now you can save big with Multi-Release Packages shown below:
Standard (1 Release) Flat Fee: $395 (Place order below)
2-Release Package: $595 (save $195)
3-Release Package: $795  (save $390)
4-Release Package: $995  (save $585)
6-Release Package: $1295  (save $1075)
*For customized press release services, contact us for additional discussion.
Other Valuable GuitarPR Services
Order Services Here
Fill out the form below or call us at 888-777-2404 to get started immediately.